nWOL: Simple & Powerful Wake on LAN tool for Windows
Updated 2023.7.8
Welcome to nWOL official page!
nWOL Version 1.7.77 released on Jul 8th, 2023

Overview of nWOL
nWOL is a Wake on LAN tool for Windows providing powerful functions with simple user interface. I hope you enjoy the WOL operation with nWOL.
Highlights of the nWOL features are as follows.
Very simple UI with intuitive operation.
Super fast Scanning of all online hosts in LAN. MAC addresses, IP addresses, and host names can be automatically discovered in very short time.
Automatic detection of IP address change in the LAN. With this feature, you do not have to worry about IP address change caused by DHCP anymore, or you do not have to assign fixed IP address to a host.
Sending magic packet to remote hosts even to outside LAN beyond a router.
DNS/Dynamic DNS support.
Monitoring of the status of remote hosts in real time. Host status can also be shown in task tray. You can use nWOL as a monitoring tool of remote hosts.
Making sound when a host starts up or shuts down.
Customization of the main window design.
Displays the time elapsed since magic packet was sent.
Multi-language support. (English, Japanese)
Support custom destination UDP port number of Magic Packet.
Command line application "nWOLc.exe" which can be used in command prompt or batch files.
Download
nWOL supports Windows 10 64bit/32bit.
nWOL executable is build as "Any CPU" mode. The executable files are common to 64bit and 32bit OS.
If you encounter "Windows Protected Your PC" screen, you can continue installation by clicking "More Info" text and then "Run anyway" button. If you do not want to use installer, you can download ZIP package and run the nwol.exe manually.
Please refer nWOL Manual for installation and the details of nWOL.
Latest Version 1.7.77 (Jul 8,2023)
Installer package
ZIP package
Hash values of distributed packages in the past.
Documents
Screenshots
Main Window

Settings Window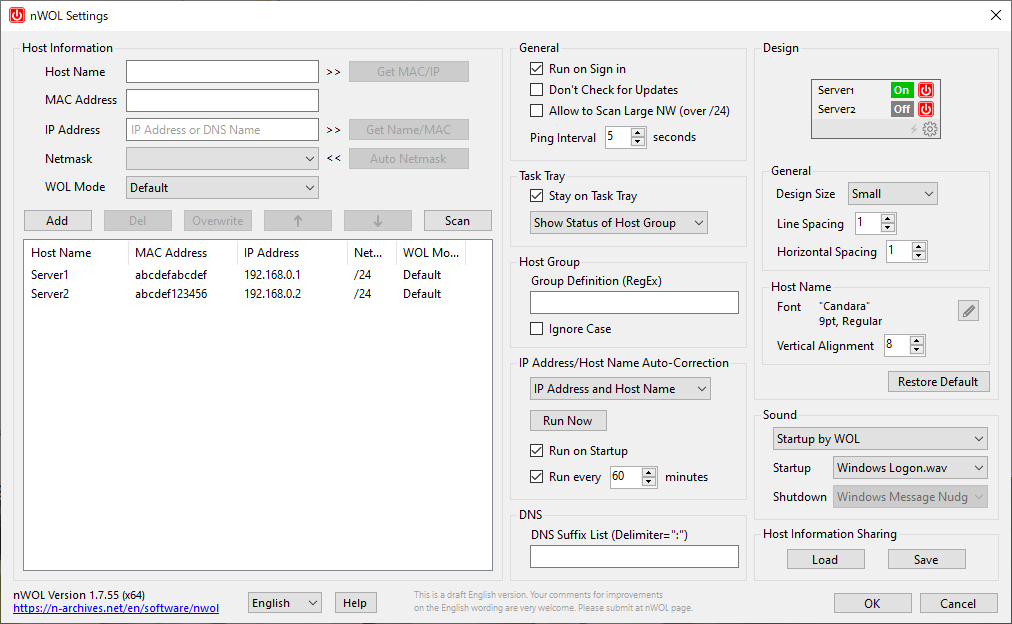 Task Tray Icon

Other download sources
Software Archive Sites
Software Archive Sites (Japan)
Related Articles